Understanding Keyword Density In SEO
Keyword density in SEO is one of those topics that seems to confuse many search engine optimisers. Some search engine optimisers will tell you that the best keyword density to have in all of your articles in 1%, another will tell you that you should keep your keyword density between 0.5% and 3%, and others will tell you to not let your keyword density rise above .3%. Do you want to know what the correct keyword density you should have all of your articles at? Well, the correct keyword density is… a varying number.
Calculating Keyword Density In SEO
An article on this site titled, "How To Check Keyword Density", goes over a few ways to calculate keyword density in SEO. Below, a shortened version of the article can be read.
SEOCentro
I use SEOCentro to check keyword density when the keywords that I am targeting are 3 words or less. SEOCentro allows you to check the keyword density of one webpage at a time. When using SEOCentro to check keyword density, you can include elements from your webpage's title and description as well as include numeric keywords when calculating your keyword density. SEOCentro also provides you with a tag cloud if you prefer a more "visual" way to see which keywords appear on your webpage the most.
Manual Keyword Density Calculations
In the event that you found the automatic calculations by SEOCentro to be unreliable, you can manually calculate keyword density in SEO by using the formula below.  Definitions for the acronyms used in the image can be found both in the image and below the image.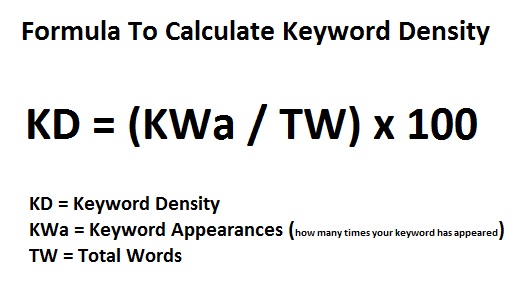 KD = (KWa / TW) x 100
KD = Keyword Density
KWa = Keyword Appearances )how many times your keyword has appeared)
TW = Total Words
Now that you understand what keyword density is, it's time for us to move on to the next part of this SEO training course.
Next In This Guide: Understanding An Outbound Link