How To Create A Clone Website For Free With Clone Zone
I recently stumbled upon a website called "CloneZone" that allows you to tweak and upload a clone website (or multiple clone websites) using their website for free. Because of all of the possible ways that this website could be used in Internet marketing (which I will cover in a moment), I naturally jumped at the chance to test this website out myself by hastily creating a hoax news articles about this particular site (Sycosure).
How To Create A Clone Website With CloneZone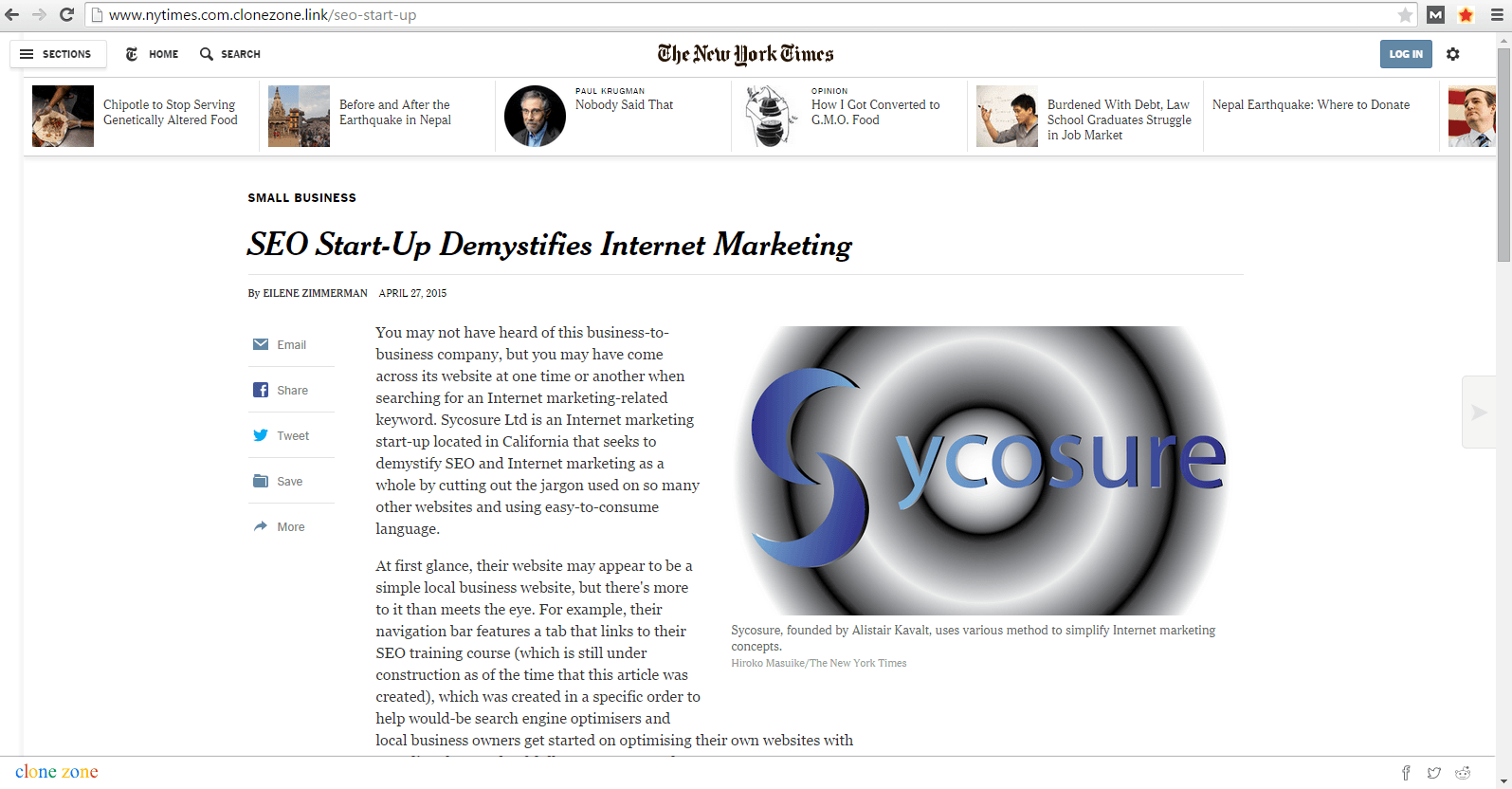 A shown in the image above, almost every element of the website you select is editable. If you would like to view an example of a clone website created with CloneZone, feel free to view my hoax article here.
Step 1. Sign Up At CloneZone
The sign-up process is simple, free, and you don't even need to click a confirmation e-mail. You can also sign up with your social media accounts.
Step 2. Select A URL
You can use any URL for any website on the Internet.
Step 3. Edit The Page
Just start anywhere and edit the page. Anything can be changed and images can be dragged and dropped onto the clone page.
Step 4: Save Your Website
Once your website is saved, you can create a URL for it and publish the site. If you would prefer to make a private site, there's an option for that, too.
Step 5. Share Your Link
Simply share your link and anyone who clicks it will be directed to your clone site.
Issues With Creating A Clonzone Clone Website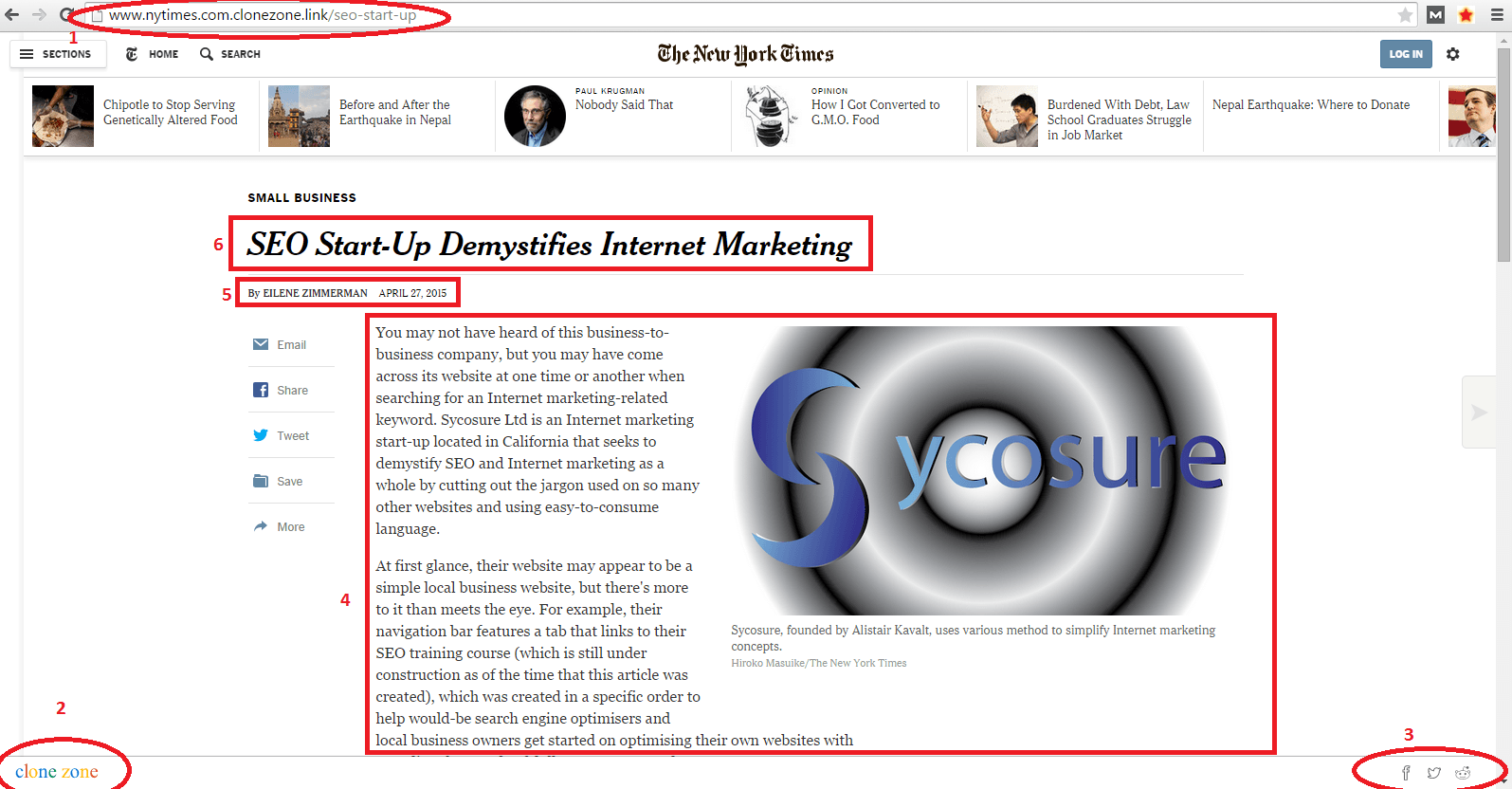 There are quite a few issues with Clone Zone, with some of them more obvious than others.
1. The Clone Website's URL
While most Internet users will not notice the subdomain right away, it's a dead give away to more tech savvy users.
2. The Footer Logo
I didn't have time to figure out how to remove this, although it's probably there to alert visitors that the website is just a clone website.
3. The Social Media Links
Some visitors may become suspicious when they notice these social media links, especially if they've been to the website before.
4. The Body Of The Page
If your body text is plagued with spelling errors, most people are going to figure out that the article is fake. The same thing applies to using low quality images in the article.
5. The Author and Date
Tech savvy users will not fall for your clone website if they notice that the author of the article has never written the article on the original website (which can often be searched by clicking on their name).
6. The Title
For the same reason as the page body, creating a title that isn't similar to the original website's title can make the edits more conspicuous.
7. CloneZone's Downtime
While this one isn't a feature in the image above, it is an issue. CloneZone's servers have been under a lot of stress lately, and because of this you can expect your clone website to go down often.
Potential Uses
There are so many uses that a CloneZone website could have that I wouldn't have time to go over them (at least, not withoutout creating 200 other articles). Instead, I'll list a few of them out below:
Testing new features and images on your website (credit: Chuck Floro).
Creating tiered backlinks
Creating tier 2+ backlinks for churn and burn websites
Creating prank websites
Creating affiliate product review websites
Creating business review sites (which is what I did in the example)
Creating other fake news websites
Creating landing pages
Possible Legal Issues With CloneZone Clone Websites
While I'm not entirely certain about these, they more than likely apply to CloneZone websites.
Avoid slandering someone's name. This is called "defamation" and can result in a lawsuit.
Be wary about using images that do not belong to you. While it's unlikely that you'll be sued for copyright infringement, it can still happen.
Related Articles:
The Difference Between B2B SEO & B2C SEO
Can The Google Knowledge Vault Redefine Modern Search?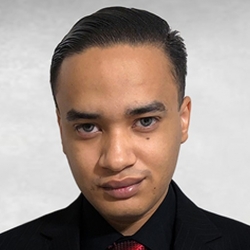 Latest posts by Alistair Kavalt
(see all)